BRIEF REVIEW OF 2020
First and foremost we hope you and your families are well and in good health.
Following the UK General Election result in December 2019 and the resulting 'clarity' of direction in relation to Brexit, 2020 started full of optimism for the UK commercial property market and for all of us at Estate Office.
Unfortunately, the year rapidly became challenging - in late January we cancelled trips to meet our overseas contacts and on 23 March the UK entered its first Covid-19 enforced lockdown and we learnt just how much we all take for granted on a daily basis.
In May we were able to get back into the office and resume doing what we do best – working hard, finding opportunities and putting buyers and sellers together - and from a business perspective…
WE HAD A GREAT YEAR!
Estate Office transacted on over 75 properties with a total value in excess of £435m in 2020.
Click here to download our updated Commercial Track Record
MARKET YIELDS
It is too simplistic (and wrong!) to say that Covid-19 has created downward pressure on prices.
Covid-19 has accelerated distress where it already existed and obviously has had an adverse impact on the retail and leisure industries. Market yields have softened in these sectors and most dramatically for Shopping Centres, High Street Retail and Leisure Parks.
By contrast, secure income and prime properties have seen yields either harden or hold with prices for Foodstores, prime West End Offices and City Offices either remaining stable or improving.
Given the ever-increasing influence of the internet and the increased need for deliveries due to Covid-19, the best performing sector has been prime Industrial / Distribution with one deal near London's Docklands achieving a Net Initial Yield of 2.58% (comparable with prime retail on Bond Street).
PRIME YIELDS 2019 vs 2020
The following table shows prime yields for the different sectors over a twelve month period to October 2020 and highlights where Covid-19 has had the greatest impact (and the least too):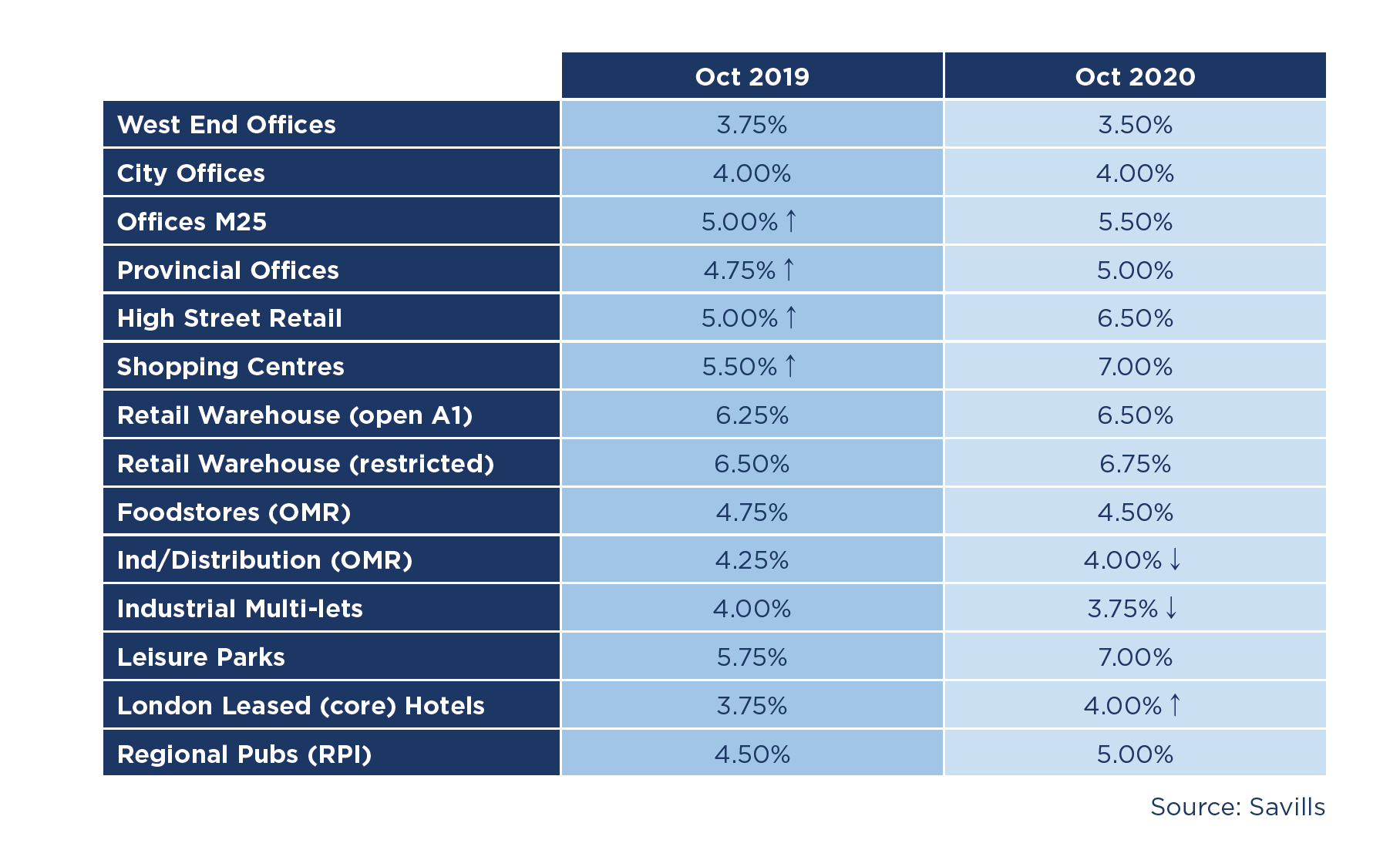 LOOKING AHEAD TO 2021
We expect this year will be characterised by a contrast between investments in either opportunistic (riskier / value add propositions) or secure (long income / prime buildings) propositions according to investors' risk appetites.
Investment volumes should significantly increase in 2021 with a further boost via increased activity from international investors in the second half of the year as confidence hopefully grows with respect to international travel.
There is a huge quantum of equity (both domestic and overseas) that has been waiting for a more stable environment to invest in the UK for the best part of two years.
UK COMMERCIAL PROPERTY INVESTMENT
The chart below shows investment volumes for UK commercial property per quarter from 2011-2020. The chart highlights the reduced activity over the last 24 months. Assuming an effective Covid-19 vaccination program across the world resulting in a more stable investment market we expect investment volumes to rebound strongly: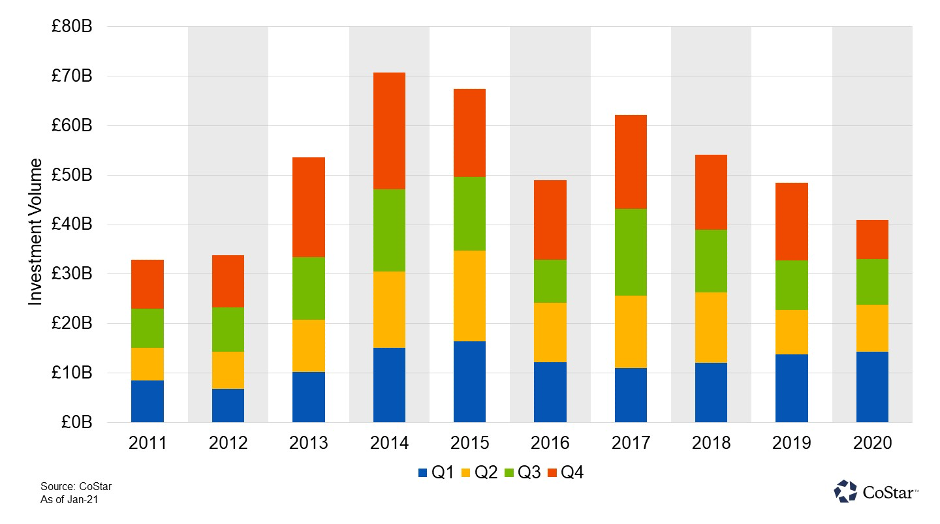 ESTATE OFFICE VIEW
We are positive about the year ahead despite the current spike in Covid-19 cases. Property is generally a medium / long term investment proposition and in the UK the Covid-19 vaccine is being distributed quickly - over 3.8m people (c. 5.8% of the UK population) have already received their first dose.
Furthermore, the most vulnerable people should be offered a vaccination by mid-February and every adult by Q3 2021. The Oxford-AstraZeneca vaccine with its simpler storage protocols raises hopes that the world will soon have a similarly optimistic outlook.
Click here to download our updated Commercial Track Record
HOW CAN WE HELP YOU?
If you are considering acquiring or disposing of any investment / development real estate opportunities in London or across the UK, please do not hesitate to contact us.
Stay Well! We look forward to speaking with you soon.
Barry Marshall
+44 (0)20 7266 8521
+44 (0)7968 037 643
b.marshall@estate-office.com
Richard Wolfryd
+44 (0)20 7266 8522
+44 (0)7711 822 588
r.wolfryd@estate-office.com